We arrived NY at late night on Oct 3, 2014. Compared with Taipei, it was pleasantly cold.
At that time (and after we went back), Taipei was still like summer.
Thanks to Simon who picked us up , we arrived at Jane's place, in Rego Park, in no time and I got fainted right away when I saw the sweet bed.
When I woke up in the next morning (Oct 4), so excited to explore the Big Apple, only to find it was rainning outside.
But there was nothing which could stop me, I insisted to go outside, at least to grab sth to eat.
Then, well, I was wrong. It was not just rainning, the rain was pouring down and the wind was so strong that I could barely stand.
Fine, that was how NY greeted foreign travelers.
That day we just bought subway sandwiches and walked around the neighborhood.
we found Rego Park Center for shopping (yeah I could buy sth for mom, that might stop her nagging) and grocery!
There was Costco! Cool! Luckily, I brought the member card with me from Taipei.
(I tried it later and indeed, the card can be used in US too!)
And we had a hot latte at Panera. The tea, cafe and water for free were great, but it tasted...ummm..well, it was for free, maybe I shouldn't judge it.
The neighborhood was really like Neihu, the district I live in Taipei. I like it :)
--------
Oct 5, 2014
The sunshine broke through the clouds, today was a hot sunny day! How bizzare! I loved it hahaha!
today we planned to go to the upper east side for Metropolitan Museum of Art and Central Park!
The police station
It's NYPD! For real! I've seen NYPD for a thousand times on TV or in films!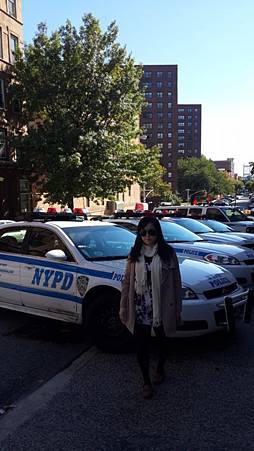 Metropolitan Museum of Art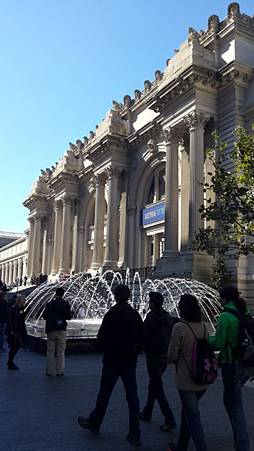 Why I looked particularly HUGE???
You can decide how much the ticket fee is!
There are lots of exhibits, my favorite galleries are:
Egyptian Art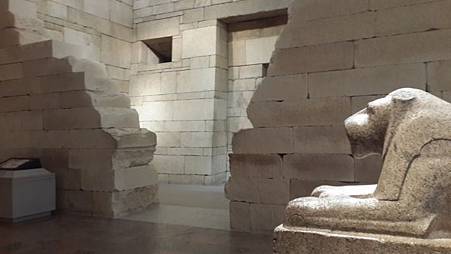 Were they bowls of grapes?
It must have been tiresome to curve this by hand.
Those archeologiests are amazing! They deciphered the Egyptian hieroglyphs!
Without them, we'd lost most of info and history of the great ancient dynasty.
And I'd lost interst in the exhibits without the background stroies.
Chapeau!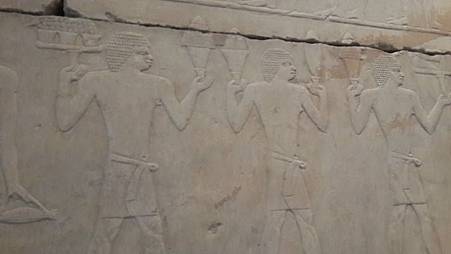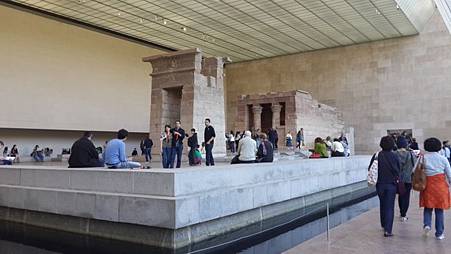 Arms and Armor
European Armor for Field and Tournament
ohhhh if you're a big fan of Game of Thrones, you'll be excited as I did!
The most horrible part was Japanese armor! I got to admit it scared me.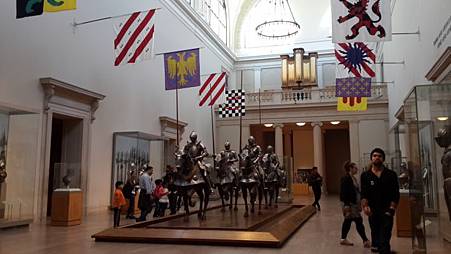 The Charles Engelhard Court of The American Wing
It's gorgeous! Totally out of my expectation!
The American Wing was not in my plan, we just walked out of the gallery of arms & armor, and reached there, then.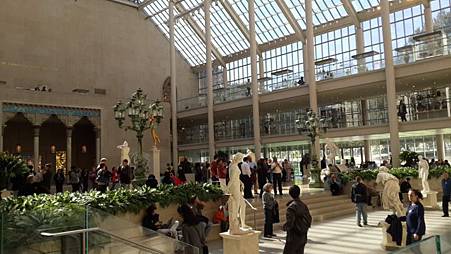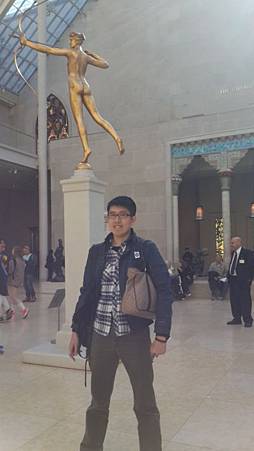 stained glass and mosaic fountain
that's truly sth I don't know abt American Art (actually I have no idea of American Art at all).
We did not visit all the galleries; instead, we went to Central Park.
Time to eat!
Boat House Restaurant, east side of Central Park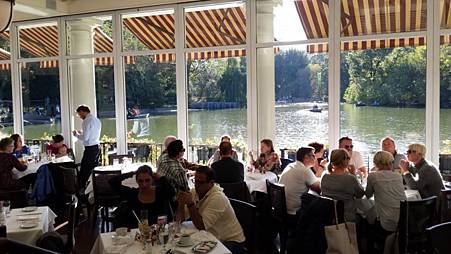 If you don't have much budget to have a fancy lunch, then you can buy burgers just like us (and the most tourists).
the chicken (or turkey) sandwich was awesome, it was juicy and full of flavor, and yes, it was spicy!
the burger to me was relatively normal. well, the view outside was the point, right?
east side of Central Park
A rest on the grass
everyone looks cool with sunglasses!
That's vacation :)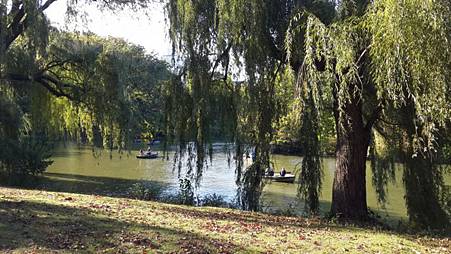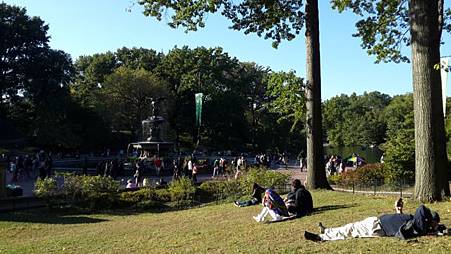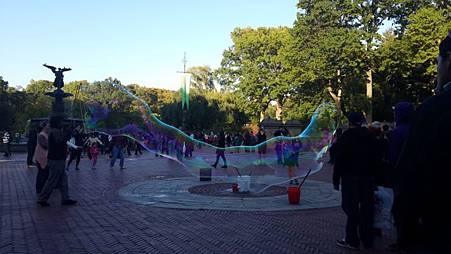 -------
NY subway's always notorious because it's dirty, dark and it smells.
But Shawn was so happy when he found the poster of K&P show! haha big fans of it too!
we've watched EVERY EPISODE of it! Literary!